Timeserver Test for ClockWatch
The timeserver test option in ClockWatch allows you to test the connection to a timeserver, verifying the connection, protocol and response of the timeserver. Using the 7-point diagnostic test you can readily pinpoint communication problems.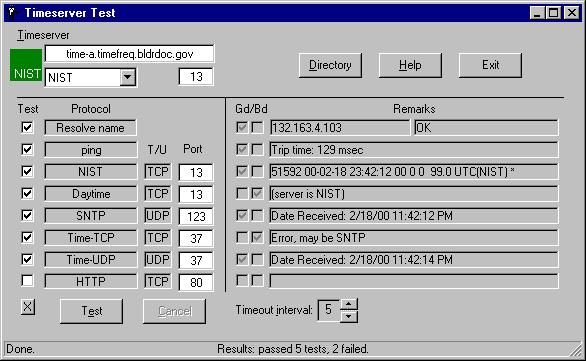 Pinpoint connection problems with an 7-point communication test
The Timeserver utility allows you to:
Check each timeserver for support of each of 5 different world standard time- synchronization protocols.
Choose a timeserver from a directory of over 100 timeservers throughout the world.
Update ClockWatch settings to use the new timeserver.

Note: Timeserver utility includes basic communication verification using 'ping' communication.
The benefits of using the timeserver test utility include:
Quick diagnosis of server communication problems.
Provides an extensive listing of alternative timeserver sites.
Highlights potential communication problems when installing ClockWatch behind proxy servers or corporate firewalls.