Installing Star Sync Receiver Remotely from a Server on a LAN
Connecting Star Sync Server to GPS Receiver using your existing LAN is easy.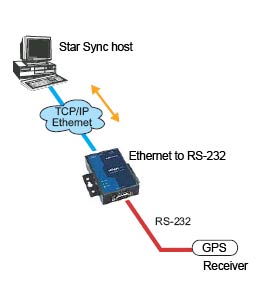 With a Ethernet-to-Remote Serial interface converter you can install your Star Sync (or Cell Sync) receiver any where on your network. The Star Sync server software can then run on a computer on the same network and receive time from the GPS receiver. The receiver can can be placed anywhere on your TCP/IP Ethernet WAN/LAN and still perform as if they was directly connected to the server. It even works over the Internet! Even at the great distances, control of your Star Sync will be right at your fingertips. We have two options for Serial to Ethernet adapters from Moxa and Digi
Using an Ethernet to serial adapter you can install your Star Sync receiver far away from its host server. The connection is made using your existing network. This gives you greater flexibility in locating the GPS receiver and attendant server separately and lets you use existing LAN cabling.
Sharing a Single GPS Receiver from Multiple Hosts

With the Ethernet adapter you can also share a single receiver between two or more hosts.

This arrangement can also be used to enable two hosts to share a single GPS receiver. Both hosts can run the

Star Sync

software and can use a single GPS receiver for time sync. This can be used when server redundancy or quick recovery is important.

Contact Beagle Software for more information.